​Palownia's Bahama Mama CM RA CGC took Best of Breed

 at the Eukanuba National Championship show

 in Orlando Florida on December 16, 2012!!

Thank you Dana Smoak for a fantastic job handling her!!

Vizcaya's Wired For Sound CM JH took BOS!

Vizcaya's Wired For Sound CM JH took

 Best of Opposite Sex and Best Bred-By Exhibitor!!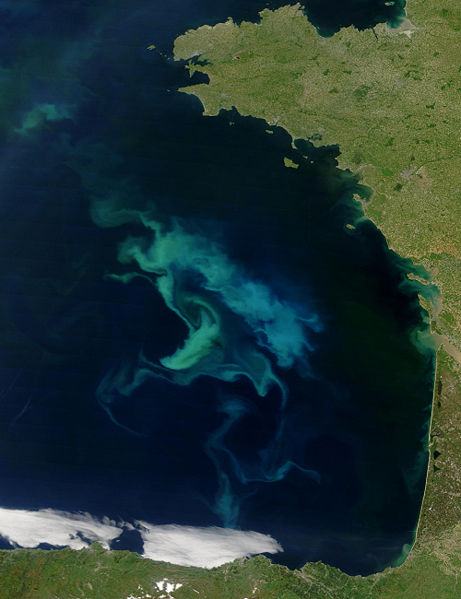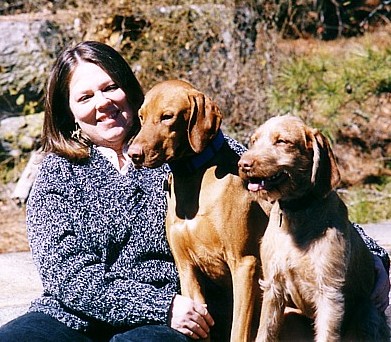 All Vizcaya owned and bred Wirehaired Vizslas are now and always will be

registered with the AKC Foundation Stock Service!!

All AKC-FSS registered Wirehaired Vizslas are eligible to compete in

Hunt & Tracking Tests and Obedience, Rally & Agility Trials as of January 1, 2009

and are eligible to be shown in the Misc Class as of January 1, 2011!!

 * * * * Please make sure, when inquiring about a Wirehaired Vizsla from other kennels,

that both parents and the litter are American Kennel Club FSS registered,

that the dog's full registered names are used on the web site, and 

that there are links to the dog's pedigree and health certifications!! * * * *

Charter Member and current President of the

NANCY EDMUNDS

924 FRED KILCREASE RD

WINDER GA 30680-3834

(~ 45 miles NE of Atlanta)

Email:

'Vizcaya' - Bay of Biscay ~ West of France and North of Spain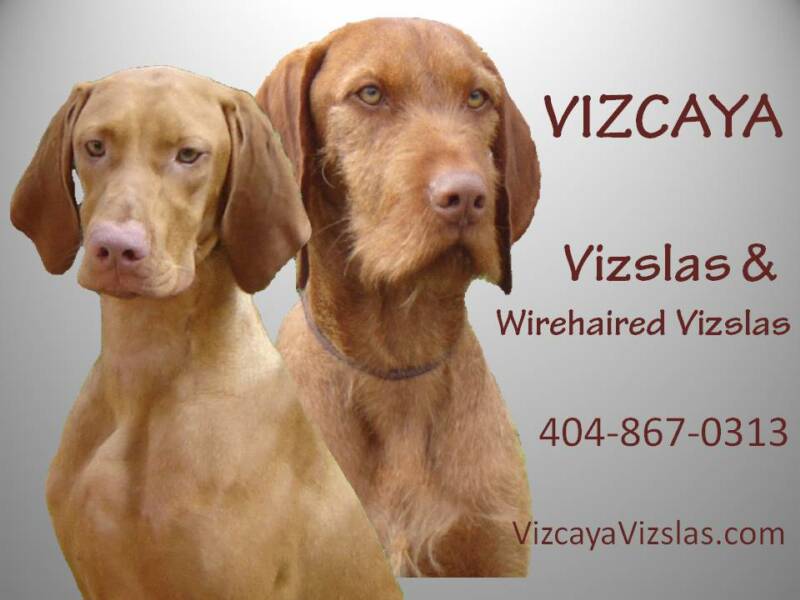 This page was last updated on: May 15, 2013
~ FANTASTIC NEW NEWS!!!! ~

The Wirehaired Vizsla Club of America is now the official parent club of the American Kennel Club!!

We co-own the very first Wirehaired Vizsla to win AKC's Best in Miscellaneous Group - 7 times now!!

UKC CH Palownia's Sanibel Sally CM!!

Vizcaya owned Wirehaired Vizslas who have now earned the Certificate of Merit title:

UKC CH Vizcaya's Wired For Sound CM JH

UKC CH Palownia's Sanibel Sally CM

UKC CH Vizcaya's Wire Rem Shades CM JH

BIS ARBA/UKC/Int'l CH Vizland's Vizcaya Remy Red CM

Hickory Creeks Memphis River CM

UKC CH Palownia's Bahama Mama CM RA

Miscellaneous breed dogs (Wirehaired Vizsla) who have won a CM (Certificate of Merit title)

or at least three (3) Best of Breeds, with competition or One (1) Best in Misc. Group,

with competition may be eligible for an invitation to the

AKC/EUKANUBA NATIONAL CHAMPIONSHIP show in December of 2012, in Orlando Florida! 



Vizcaya - Vizslas and



      Wirehaired Vizslas
Bred for Conformation, Temperament and Natural Ability

Breeder and Co-Owner of the very first AKC Eukanuba National Championship Best of Breed winner in Wirehaired Vizslas and the first AKC WV Best in Miscellaneous Group in US history!!

2013 WVCA Nationals will be held in Louisville Ky on March 15-17, 2013

We are very proud to have had one of our Wirehaired Vizsla litters evaluated by

Pat Hastings in her seminar on 'Structure in Action' on August 14, 2011. It opened

new avenues of knowledge for evaluating future puppies! I cannot thank her

enough for adding to my abilty to find those gorgeous puppies in my litters!

Many of the stacked and moving photos of my dogs on this web site are the product of 
Phyllis Ensley Photography
. I recommend her highly for professional photographs of your show dog!!

 770-345-9738             1-888-DOG-PICS         1-888-364-7427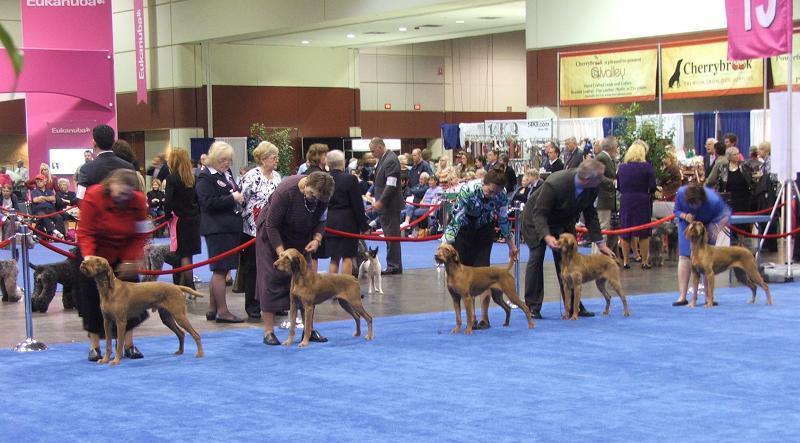 Littermates Bailey & Oakley

       Bailey            Betyar         Oakley      Sirius        Sally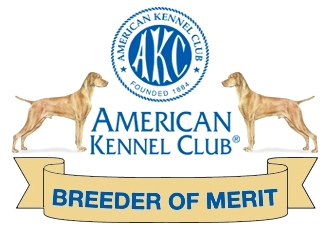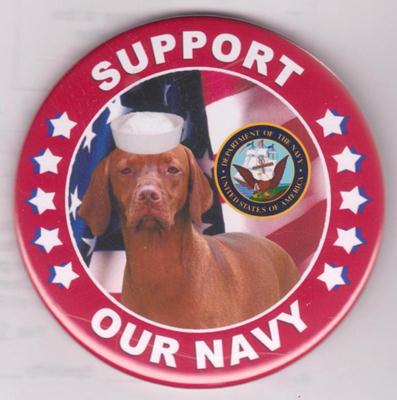 UKC CH Vizcaya's Wired For Sound CM JH is the very first

Wirehaired Vizsla in the United States, to obtain the AKC

Certificate of Merit title, and now, the first Best of Breed winner

and Best Bred-By winner at the Eukanuba National Championship show in 2011!!! Bailey also took BOS at the 2012 ENCS!!

Congratulations co-owners Lee & Barbara Ross!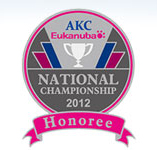 Bailey - 2011 Best of Breed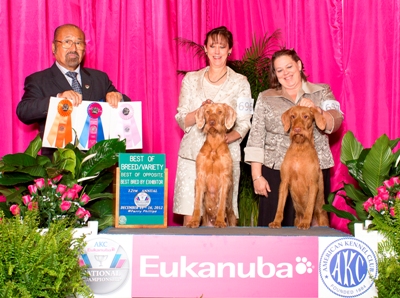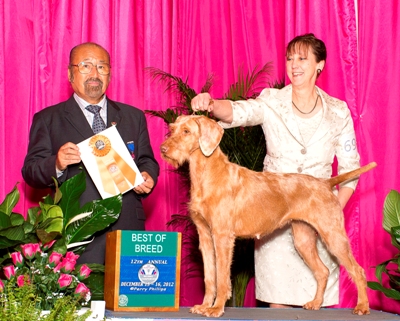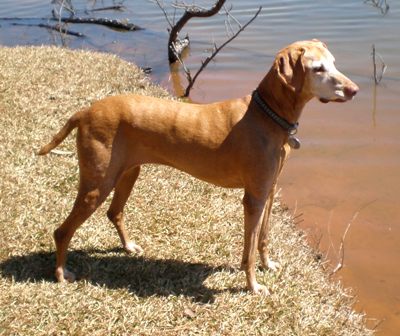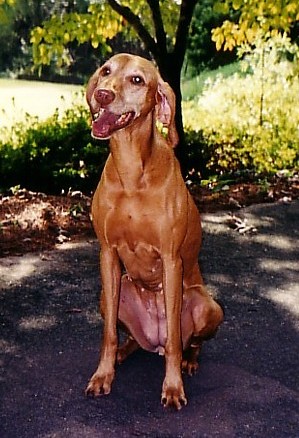 'Zoe" - Vizcaya's Shut Up and Kiss Me,

 turned 18 years old on May 14, 2013!! She was

born 5/14/95 and is happy, healthy and living a

wonderful life with Susan! Thank you so much

Susan, for giving her a long life to enjoy! We

hope to present her at the VCC Specialty

in Greenville SC in July!