About Us - My dogs & me!!

My start in smooth Vizslas ~

Vizcaya is dedicated to showing and breeding conformation excellence, bird instinct, and loving temperaments - Home of the very first Wirehaired Vizsla, 'Remy', to go Best in Show in any Kennel Club Registry in the United States. We now co-own the very first Wirehaired Vizsla to go Best in Show at an American Kennel Club show - "Durham", BIS GCHB Vizcaya's Vizland Cherokee Asagi!!

My start in Wirehaired Vizslas ~

My love for the Wirehaired Vizsla started with my purchase of Remy, in 2002. Being involved with Smooth Vizslas for 25 years at the time, the Wirehair was a dog to have around the house that was different, with no plans to show or breed. Little did I know I was going to fall in love! Knowing the Wirehaired Vizsla was not yet recognized by the American Kennel Club, I pursued finding an outlet where I could exhibit Remy. I found the
American Rare Breed Association
where she finished her Championship and received the very first and only, even to this day,
Best in Show
for a Wirehaired Vizsla in any registry. We now co-own the very first Wirehaired Vizsla to go Best in Show at an American Kennel Club show - "Durham", BIS GCHB Vizcaya's Vizland Cherokee Asagi!!
This page was last updated: February 26, 2021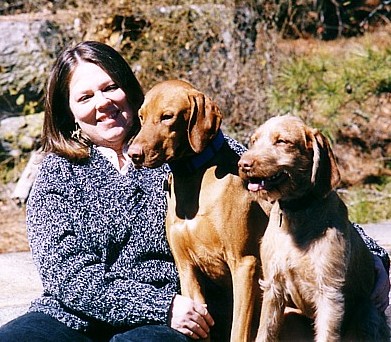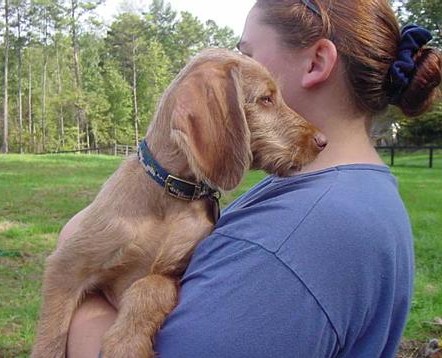 I am Nancy Edmunds. I have shown dogs since 1978. I had been involved in several breeds in the past, trying to decide what I wanted to stay with. Those included Cocker Spaniels, Rottweilers, Manchester Terriers, Whippets, Brussels Griffons, Golden Retrievers, Poodles, Afghan Hounds and Vizslas. I have shown Vizslas in conformation through AKC events. My first breed was Afghan Hounds, finishing three dogs in AKC. I also finished a couple of Rottweilers and Manchester Terriers during this time. Going into Whippets after this, I finished seven with my kennel name of 'HiKlass'. Starting with the kennel name of Vizcaya Vizslas in 1985, finishing my first Vizsla in 1990, I hope to continue until I can't any more, finishing 52 Vizslas as of 2021!

Memberships with AKC all-breed accredited clubs over the years include Arkansas KC, Augusta Ga KC, Piedmont KC in Charlotte NC, and Oconee River KC in Georgia. I have served as newsletter editor, trophy chairman and hospitality chairman in the Arkansas KC, and member and past Program Director of the all-breed
Oconee River KC
in Watkinsville Ga.

My specialty club memberships in the past included the Tara Afghan Hound Club of Georgia and the Metropolitan Atlanta Whippet Club.   I was a member of the AKC Vizsla parent club,
Vizsla Club of America,
from 1985 to 2005, and the
Vizsla Club of Metro Atlanta
, since it's inception in 2002, where I served as secretary for the club's first two years.  I am a current member of the  Tarheel Weimaraner Club, and current Board member and Web Master of the 
Vizsla Club of the Carolinas
, and a charter member and recent past President and Vice-President of the AKC Wirehaired Vizsla parent club,
The Wirehaired Vizsla Club of America
.  I have judged in four all breed matches, and three Specialty Sweepstakes.

I was born with slightly deformed feet and unfortunately it keeps me from walking the Hunt Test and Field Trial grounds comfortably, although many of my puppies are  in hunting homes and have earned several AKC Hunt titles and NAVHDA Prizes. I appreciate those owners keeping the hunting instinct alive in these dogs and proving their natural ability! Please see them on my 'In The Field' page.

Our adult dogs live indoors so we can provide each other with much needed love and protection. Our puppies are raised indoors with trips outside when the weather permits. Please feel free to browse the web pages and also to get in touch with us if you are interested in finding out more about our Vizslas, both smooth and Wirehaired!
I then showed her in the
United Kennel Club
after the breed was recognized in 2006, where she not only obtained her Championship, but finished in the Top Ten WVs for 2007 and 2008. Remy was also shown in the German FCI based
International All Breed Canine Association
where she received her International Championship. As of 2021, Remy is the only Wirehaired Vizsla in the United States with four conformation titles! She is sired by the very well known
Dutch/Luxemburg CH Fram Od Smutne Ricky.
See her on the 'Our WHV Girls' page!
     Remy's son Reiley, out of my very first WV litter and sired by Thorn Hill's Caruso, is also an accomplished dog, claiming the very first Wirehaired Vizsla to obtain the title of United Kennel Club 'Grand Champion'. He has also received the first Reserve Best in All-Breed Show in the breed's US history. He finished as the UKC #1 male Wirehaired Vizsla for 2007 & 2008. Reiley has many UKC Group 1's, Group placements and Best of Breeds to his credit. He is an awesome dog to show, with his love for the show ring, and his silly attitude! Josh and Melissa Joyner give him a wonderful home in North Carolina, and are very proud of his accomplishments. Co-owning this dog with them has been a true honor and I am forever indebted to them for allowing me to show this gorgeous, beautifully moving dog. 

     Since then, Vizcaya has purchased a few Wirehaired Vizslas, and kept a few others from different litters. With a trip to Hungary in the fall of 2009, we brought back two puppies! We also imported a WV bitch from Quodian WV Kennel in the Netherlands. We have taken 8 WV to their UKC Championships, 1 to his Grand Championship, 2 to their International Championships, and 1 to his National Championship. Now, thanks to a few hard working members of 
The Wirehaired Vizsla Club of America
, the WV was accepted in the
American Kennel Club's Foundation Stock Service
on 1/8/08.  Then, on 1/1/11, the WV moved into the AKC Miscellaneous Class and was able to be exhibited at all AKC shows! We finished 13 WV with the CM title, including the very
first
AKC Certificate of Merit Wirehaired Vizsla and the two very first Best of Breed winners at the 2011, 2012 and 2013 Eukanuba National Championship shows, 'Bailey' (2Xs) -
UKC CH / AKC CH Group placing, Vizcaya's Wired For Sound CM JH
and
UKC CH / AKC CH  Palownia's Bahama Mama CM RA
!! As of July 2, 2014, the WV was given full recognition in the AKC Sporting Group! 'Bailey' is the very first AKC Champion of Record! He finished with 4 majors over our first weekend out, then on the last day of the circuit, was the first Group placing WV, taking a Group 4 under Marjorie Mortarella! I could not be any more proud of this boy! Since their recognition in July of 2014, Vizcaya has finished many AKC Champions, and Grand Champions including AKC's first Wirehaired Vizsla Grand Champion SILVER Quodian's Tareck Rey D'Celis!! Much appreciation to Sergio De Celis of Buenos Aires Argentina for allowing Tareck to come to me and be shown in America, and for me to use him at stud.
I am a Charter Member,  past President, past Vice President and current Board of Directors of the WVCA. This has been a wonderful and fun ride, and I hope to never have to get off this one!